PARTNERS
Central to Excitel's existence, we rely on our on-the-ground heroes aka the Excitel Regional Partners to deliver the ultimate binging experience!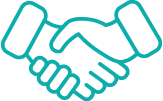 Grow with us as a valued Excitel Regional Partner as we are providing the best business opportunities for Cable TV & Cable Internet operators as well as infrastructure providers in residential societies.
Enjoy the perks of being an Excitel Regional Partner today!
#TheRealMVP